*Short update at bottom of page
OK, now that we have the poorly written Buzzfeed headline out of the way, here are the results of my first Vivaldi antenna build.
I only tested it for a few minutes indoors and out, and the initial results have me pretty excited to experiment some more. I was able to receive and decode L-Band AERO signals on my AirSpy Mini without an LNA outdoors. Indoors, through a wall, I was able to view the signals but not a high enough SNR to decode. Pretty impressive without an LNA.
Tomorrow I'll try the N3 SDR and a couple RTLSDRs out and also with an LNA and filter in the mix too which are sure to help things out. Might even get as far as putting the downconverter in line and see what I can get in S-Band and beyond. I'll report back in case there are any lost souls interested in my scratchings on these cave walls.
Anyway, Here's a pic of the antenna. Nothing fancy. Just Scissor Cut PCB, wired up with some tiny semi-rigid coax.
*Update 1
After unexpectedly hitting RTL-SDR.com's site I've received a few email question on the dimensions of this particular antenna. It is the 2nd one pictured in the previous blog post with the outer copper cut down to look like this. I'll post the image here so you can print and cut or toner transfer for yourself. There is nothing special here. I made this design in PAINT with elipticals. More below.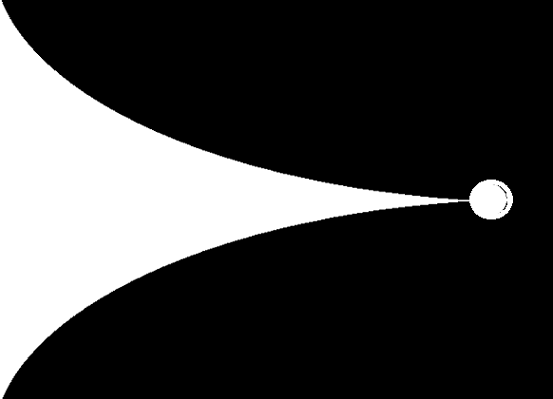 As to answer what I've been able to receive well on this so far I've copied ADS-B – Really gets the gain up there over the other antennas I've used, Inmarsat Aero, and some irridium sats among others. I've not put the LNA in line just yet as both of mine seem to be screwing up. Not sure if I'm not getting voltage out of the AirSpy Mini or if the LNAs got fried somehow all of a sudden (more likely – sht happens ¯\_(ツ)_/¯ ).
In any case, I have some fresh LNA boards sitting here and will populate them today with BFP420's. (have a bunch of them) I hope to have an update for you all tonight sometime. It's been busy here, last *ahem* working day of the year and all. With an LNA in line I expect this to perform pretty damn well.
Need scissor cut PCB? Found some 5×8 on ebay here: http://www.ebay.com/itm/Scissor-Cut-Flexible-Printed-Circuit-Board-Material-Copper-Clad-5-X-8/201285628477 – no affiliate links here folks. Mine is 7×10 but you can see I cut it back a bit. The 5×8 should work nicely, worst case scenario you lose a tiny bit of bandwidth at the bottom end.
More to come. If you have questions please use the comment form below, twitter @kd0cq, or email me. chris [at] kd0cq dot com. Follow me on twitter to join in on all my misadventures in radio @kd0cq.
73's for now.